Legacy Builders - Where Integrity Resides
Legacy Builders NRV, Inc. takes significant pride in providing our clients with a positive and exciting home building experience.  We take the stress out of the construction process, and our clients actually have fun while building with our firm.
We design custom homes to fit our client's lifestyle, budget, future aging needs, and, of course, to maximize the attributes of the building lot. We can also use our creativity and years of experience to solve problems in your existing home, from minor renovations to major additions.
Legacy Builders NRV, Inc. is proud of our impeccable reputation, before, during, and long after the completion of our projects.  Our clients become our friends, and our homes truly are "Where Integrity Resides."
We welcome the opportunity to work with you on your custom home building and/or renovation needs.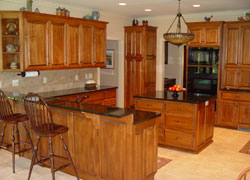 Living a long distance from Blacksburg, which was our planned retirement community, we were fortunate to have selected Legacy Builders.  It was the best decision we could have made.  We rarely visited the building site as the house was in progress.  What an absolute delight to see what the house had become from the design stage to final completion!  I was in awe of the fine job Legacy Builders and its craftsmen had accomplished.  We will be forever grateful.
- Marie & Russ C
Blacksburg, Va
Home Builder's Tip

Building a home can seem scary; renovating a home while you and your family live in it--well that can seem just crazy.  Life is already full of stress so adding the noise, dust and confusion of an addition or renovation into your home, is something we appreciate very much.  Having families of our own, helps us understand how critical the preparation is, before we start a project to everyone concerned.
We strive to start and finish all of our renovation projects as quickly as is humanly possible.  Most of our projects are done in days vs. weeks, to minimize the disruption in your home and life.  In the last two weeks, we have renovated two full kitchens, and next week we take on a full bathroom.  It is so much fun share the excitement and joy with our clients in their new spaces!
Give us a call to discuss, dream, and plan your next building project.
Happy Halloween!
Nancy and Jerry