Legacy Builders - Where Integrity Resides
Legacy Builders NRV, Inc. takes significant pride in providing our clients with a positive and exciting home building experience.  We take the stress out of the construction process, and our clients actually have fun while building with our firm.
We design custom homes to fit our client's lifestyle, budget, future aging needs, and, of course, to maximize the attributes of the building lot. We can also use our creativity and years of experience to solve problems in your existing home, from minor renovations to major additions.
Legacy Builders NRV, Inc. is proud of our impeccable reputation, before, during, and long after the completion of our projects.  Our clients become our friends, and our homes truly are "Where Integrity Resides."
We welcome the opportunity to work with you on your custom home building and/or renovation needs.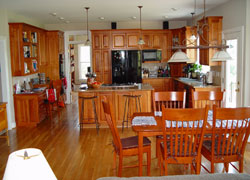 With Nancy and Jerry, we started out with builders and ended up with friends!  Their commitment to high-quality work is deep and lasting.  After seven years, > we benefit daily from their thoughtful planning and superb craftsmanship!
- Gary and Marta D
Blacksburg, Va
Home Builder's Tip

Summer time at last! 
We are finding our summer starting off quite busy at Legacy Builders.  I hope you and your family will find some relaxing and special days together over the coming weeks.
Wildlife seem to get a bit brazen at this time of year. Between the ground hogs, skunk, deer, birds and insects, I am having to stay on constant alert around my home.  My neighbor is encouraging me to plant a small garden this year.  I can't help but believe that the bunnies and deer will be getting the benefit of my efforts, in the end.
If you are headed out of town for vacation, it is always a great idea to cut off the water main to your home. 
Safe travels and don't forget the sunscreen!
Sincerely,
Nancy and Jerry