Legacy Builders - Where Integrity Resides
Legacy Builders NRV, Inc. takes significant pride in providing our clients with a positive and exciting home building experience.  We take the stress out of the construction process, and our clients actually have fun while building with our firm.
We design custom homes to fit our client's lifestyle, budget, future aging needs, and, of course, to maximize the attributes of the building lot. We can also use our creativity and years of experience to solve problems in your existing home, from minor renovations to major additions.
Legacy Builders NRV, Inc. is proud of our impeccable reputation, before, during, and long after the completion of our projects.  Our clients become our friends, and our homes truly are "Where Integrity Resides."
We welcome the opportunity to work with you on your custom home building and/or renovation needs.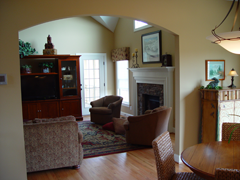 Working with Legacy Builders for the construction of our "dream home" was a wonderful experience with an incredible outcome.   From design concept to materials selections, their expertise and hands-on guidance made building our home exciting and rewarding.  We could not be more pleased with our home -- quality construction and exceptional follow-up. 
- Mike and Sue D
Blacksburg, Va
Home Builder's Tip

It was great to see so many of you at the Home Show this weekend!  I believe that there are a few of us, that only get to catch up at this annual event.
We are praying that the predicted snow storms miss us all together, but be safe out there if the white stuff invades us during the next few days.
Students and faculty are back from spring break, so this change in weather will be a shock to us all.
Please give us a call if we can help you with any  building or remodeling plans.
Sincerely,
Nancy and Jerry