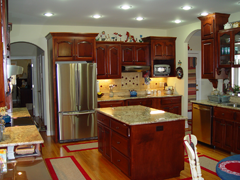 We lived and worked in Richmond during the entire planning and building process.  Having previously done two additions to our Richmond house with two different builders, we knew how many details are involved in any building project and were worried about working long distance on this project.  We were amazed at how few problems we encountered, and the few glitches that did result from the long-distance communications were remedied quickly and cheerfully. 
One of the things we appreciated was the help we received in choosing fixtures and tile.  The allowances were generous, based on what Nancy might have chosen for her own house.  Nancy took time to accompany us as we shopped.  Her expertise saved us a lot of time, and the shopping process was enjoyable rather than burdensome.
Last but certainly not least, over the course of this project we developed an appreciation for the absolute honesty and integrity of both Nancy and Jerry.  At times we felt that they were more concerned about our best interests than their own.
- Sue and John
Blacksburg, Va