Custom Design Home Testimonials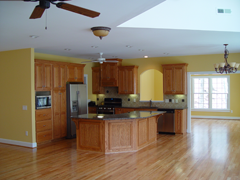 When we asked Legacy Builders to come into our home, it was one of the best decisions we ever made. We had a partially finished basement that was mainly the children's playroom, but was mostly used for storage. Our main concern was the fact that the basement is underground with few windows and offered little natural light. Working with Legacy allowed us to maximize the layout and the lighting with an innovative design and material choices. Now, our basement is an incredibly warm and inviting place to relax.
- Anonymous
Blacksburg, Va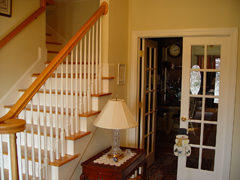 We love the house that Legacy built for us!  Nancy and Andrew worked closely with us in developing the plans, and we are more than satisfied with the results.  Our new home is both comfortable and beautiful.  The quality of the construction exceeded our high expectations.  Nancy, Jerry, and all of their employees are extremely competent and gave the same level of attention to detail in building our house as they might if building their own home.
- Sue and John
Blacksburg, Va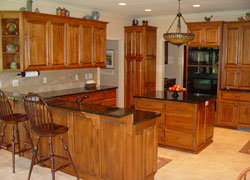 Living a long distance from Blacksburg, which was our planned retirement community, we were fortunate to have selected Legacy Builders.  It was the best decision we could have made.  We rarely visited the building site as the house was in progress.  What an absolute delight to see what the house had become from the design stage to final completion!  I was in awe of the fine job Legacy Builders and its craftsmen had accomplished.  We will be forever grateful.
- Marie & Russ C
Blacksburg, Va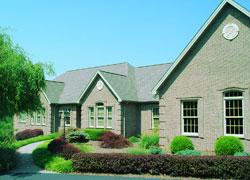 With Legacy Builders we feel we got more than a good builder.  With Nancy Phillips at the helm, we got good architectural advice as well.  Any ideas we had of changes to be made to the house plan were made better with her expert advice; and her knowledge and good taste in interior design was also helpful in making many of the right decorative choices.  We can't say enough good about Legacy Builders--its owners, office personnel, and craftsmen.
- Russ & Marie C
Blacksburg, Va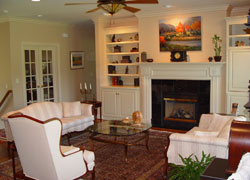 With Legacy Builders, we believe we contracted the best builders in Blacksburg.  Details matter, and their craftsmen were superior, whether laying brick, installing tile or  decorative molding, building a mantle, or painting walls and trim.  We could not have been happier with their work.
- Marie & Russ C
Blacksburg, Va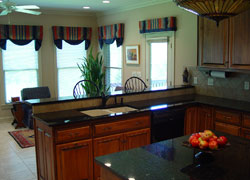 With many interior design possibilities and fear of making the wrong choices, we often deferred to Nancy Phillips' advice.  Today, we know with certainty that her wide knowledge and expertise lead us in the right direction.  She got it right every time!
- Russ & Marie C
Blacksburg, Va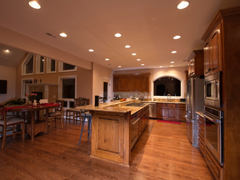 Having previously built 4 other houses, we were a little hesitant about going through what had been a very stressful process in the past. Nancy made it easy and we ended up with a beautiful custom home on price and schedule without any hassle or drama.
- Pat A.
Blacksburg, VA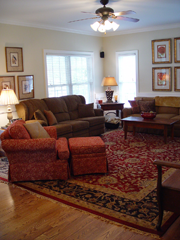 Being first-time home builders, it was very reassuring to be in Jerry's capable hands.  He patiently answered all of our many questions and impressed us with his attention to detail and pride in workmanship .  As he told us one day-I don't just want it to be right, I want it to be perfect!
- Natalie S.
Blacksburg, Va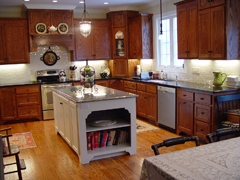 So many people warned us about how stressful the home building process could be.  But Nancy promised us it would be fun and she was right—it was!  Her enthusiasm, calm and cool demeanor and positive attitude made it a worry-free and exciting experience.
- Natalie S.
Blacksburg, Va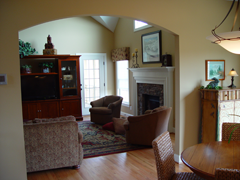 Working with Legacy Builders for the construction of our "dream home" was a wonderful experience with an incredible outcome.   From design concept to materials selections, their expertise and hands-on guidance made building our home exciting and rewarding.  We could not be more pleased with our home -- quality construction and exceptional follow-up. 
- Mike and Sue D
Blacksburg, Va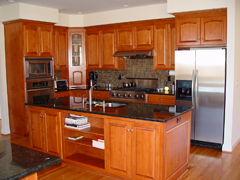 Working with Legacy Builders was Fantastic!  It was obvious that Nancy, Jerry, and their team took pride in houses they built.  They made sure that what they built would be more than another house finished.  They consistently worked hard to make sure that it's a comfortable and enjoyable home for our family.  Their attention to details was impeccable!   Nancy was always there with helpful ideas to make every room more functional and pleasant.  Jerry always made sure that every stick was placed to last for many, many years.  They both went above and beyond the call of duty to get the job done.  We have lived in our house for five years and continue to enjoy it every day.  Thank you Legacy Builders!
- Mehdi and Azin A
Blacksburg, Va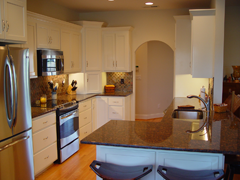 Designing a home to match your current and future needs requires a "getting to know you" process right up front.  A design/builder needs to take your ideas and turn them into build-able plans.  We feel that our home, thanks to Legacy, reflects our desire for flexible use of space as well as accessibility issues for the future.
- Kathy and Bob T
Blacksburg, Va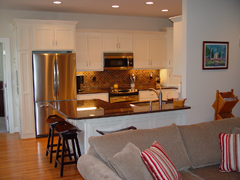 The professionalism we found in dealing with Legacy employees both in the office and in the field extended to their sub-contractor specialists as well.  We always felt  we could communicate with them, asking questions at any time.
- Bob and Kathy T
Blacksburg, Va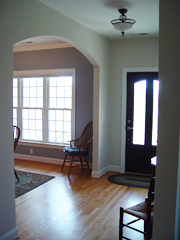 Legacy encouraged us to play an active role in the home-building process, and that suited us perfectly.  Daily site visits on our part never seemed to be an imposition on them.  They appeared to take pleasure in our interest.
- Kathy and Bob T
Blacksburg, Va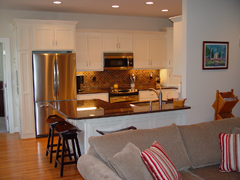 Patience was a requirement for any custom home builder that we chose to work with, and Legacy Builders was very patient.  Whether dealing with our questions, < guiding us in our selections, or making the occasional changes, they partnered with us to assure we were "in love" with our new home.
- Bob and Kathy T
Blacksburg, Va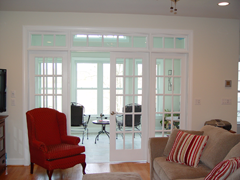 Designing and contracting a new house while moving to Blacksburg from the east coast could have been a nightmare - but Legacy Builders made it a straight-forward and pleasurable process.
- Kathy and Bob T
Blacksburg, Va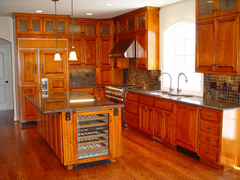 We are very pleased with the experience we had with Legacy Builders from the initial design work, through the actual building and now 9 months after we moved into our new home.
- John & Angela V
Blacksburg, Va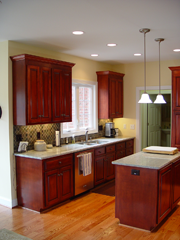 We chose Legacy Builders based on a recommendation from members of our family. Having seen their beautiful home and being impressed with its quality workmanship, we requested a meeting with Legacy Builders to discuss options for building our own home.
- Hubert and Stacy B
Riner, Va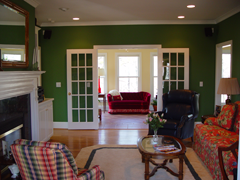 We had read a book about building a home, and we discovered that while it can be a great experience, it can also be a nightmare.  The big difference is the builder, and Legacy Builders was an excellent choice for us.  Nancy worked with us on the sale of the lot and our design, and we were so pleased with the results.  Nancy and Jerry and their crew were so good to work with, and they came in on schedule, and right on target financially.  We have worked with them subsequently in three smaller jobs related to our home.  We are happy here, but often think we might want to build again, as long as it is with Legacy Builders!
- Glenn and LaVina T
Montgomery County, Va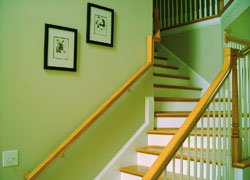 Something that really surprised us is that all the subcontractors Nancy and Jerry used were high-quality people and superb craftsmen themselves.  We felt so lucky when we realized we had chosen a builder dedicated to honesty, integrity, high quality, and supreme attention to detail all at the same time.  We got far more than we expected, yet nothing that we didn't need or want.
- Gary and Marta D
Blacksburg, Va
Legacy Builders offers many features in their standard contract that you will enjoy more and more as the years go by.  Some of these include nine-foot ceilings, floors that never squeak, higher than normal countertops, beautiful windows, and amazingly precise indoor painting. Nancy has a fine eye for elegance and Jerry insists on high quality in every step.
- Marta and Gary D
Blacksburg, Va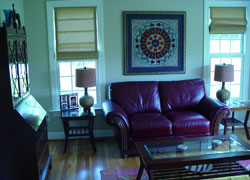 We had no fears of delays during construction because Legacy Builders carried the construction loan.  We paid nothing until the day we closed on the house.  We had no worries and were able to just enjoy watching the house go up.
- Gary and Marta D
Blacksburg, Va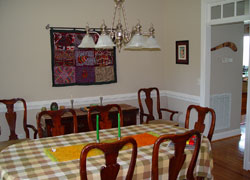 We had several meetings with Nancy during the design process.  We still remember with great fondness how she would listen patiently to everything we said and then reply, "I hear what you say, but I think what you say is not what you want. I think you want this." We laughed because she was right every time.
- Marta and Gary D
Blacksburg, Va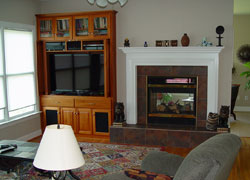 We had never built a house before and were uncertain about the allowance amounts for lighting, bathroom fixtures, tile, etc. Nancy took us to every store and walked us through our purchases.  She showed us where to splurge and where to save a bit.  We met all our allowances!
- Gary and Marta D
Blacksburg, Va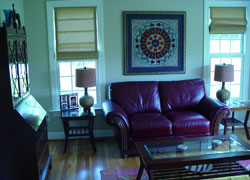 If you watch closely, you will be amazed at the high quality of construction from Legacy Builders.  They put five nails where other builders put three, and all by hand! The electrician said our house has so many nails you could pick it up with a magnet!
-Marta  and Gary D
Blacksburg, Va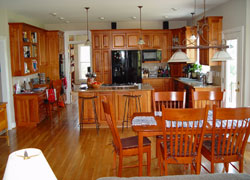 With Nancy and Jerry, we started out with builders and ended up with friends!  Their commitment to high-quality work is deep and lasting.  After seven years, > we benefit daily from their thoughtful planning and superb craftsmanship!
- Gary and Marta D
Blacksburg, Va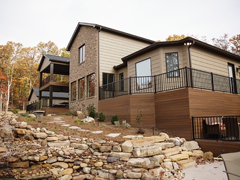 You will not find more qualified builders anywhere. The pride they took each day way amazing! They truly care about not only the home they are building, but also for the people that they are building it for! Building a home with Nancy and Jerry was truly a wonderful experience!
- Corey W.
Blacksburg, VA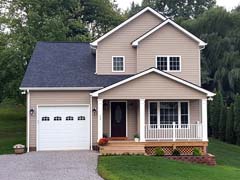 There is a reason Legacy Builders has won so many awards. They live up to their motto: Where Integrity Resides. They built the most beautiful home we have ever owned. Nancy, Jerry, and the crew are exceptional! Nancy listens well, communicates well, and designed just what we wanted. She had creative ideas for windows, front porch columns, arches, etc. She made decision-making fun and easy. We made all the decisions at the beginning with her there to give expert advice. Then we could just sit back and enjoy the construction. She arranged and rearranged work details to keep the construction process going with no lag time. Jerry and the crew were incredibly efficient - no wasted time or motion. They were efficient, but also meticulous about doing things well. Jerry ran into water problems on our property. He worked tirelessly to make sure our home and property would be safe. He had excellent ideas on how things could be done to look nicer or save money. Everything about our home is top quality. They do not cut corners, but they worked with us to build within our budget. We LOVE our new home!
Bekki and Chip B.
Christiansburg, Va.